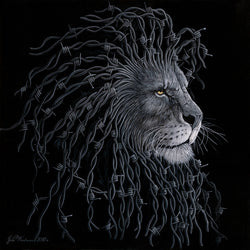 Jake Weidmann
Crucified King
This King of Glory came to earth and took on a crown not of jewels, but of thorns and died in our stead (Isaiah 53:4-5). The barbed wire is a modern depiction of the crown of thorns and represents His protection over us. The barbed wire is the only man-made element of the three to show that Jesus took on the sin of man. Through His death and resurrection, the veil between God and His people was torn, and thus the profile is broken as God turns His face towards us. 
Acrylic/Airbrush
Please note: Limited Edition of 200 for sizes larger than 12"x12"
 12"x12" is an unlimited edition.
The 24" x 24" size of this piece is printed on canvas. It will be rolled and shipped via a sturdy art tube and will need to be stretched upon its arrival to recipient. If you are interested in this size but still have questions, please inquire at hannah@jakeweidmann.com
Jake Weidmann 

© 2015